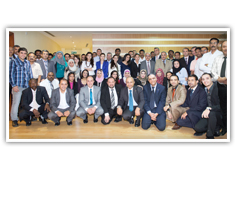 Since its foundation in 1971, Ebn Sina Medical has maintained a pioneering positions the leading medical organization in Qatar.
It represents a considerable number of the worlds leading names in pharmaceuticals,
as well as medical and scientific equipment and consumer health products.
Ebn Sina Medical specializes in the distribution and marketing of pharmaceuticals medical equipments, hospital sundries, dental, laboratory and diagnostics
as well as skin care, footcare and medicated cosmetics.
Ebn Sina's Wholesale activities are carried out through a purpose-built warehouse and distribution center which is staffed by qualified professionals and equipped with the latest in storage, preparation and distribution systems.
In the retail side, Ebn Sina has a network of pharmacies and health shops across Doha (Scholl Footcare Center, Goodlife Chemist, amongst others) to offer customers state-of-the art service in all aspects of general health and well being.
For more details click here